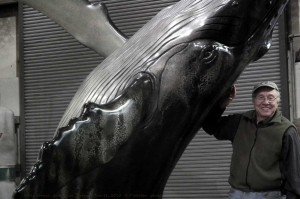 R.T. "Skip" Wallen, born in Manitowoc and a 1960 graduate of Lincoln High School, has gone on to an international career as an artist.  He began as a wildlife biologist with the Alaska Department of Fish and Game after earning his degree in zoology from the University of Wisconsin.  He had spent his high school summers commercial fishing with his uncle in Alaska and his college summers on archaeological digs in the Aleutian Islands, so Alaska was familiar territory.  His field sketches attracted the attention at headquarters, and he was brought in from the field to become the staff artist.  Many of his drawings for the department's Alaska Wildlife Notebook Series are still being published.
In 1967 he became a full time freelance artist, specializing in stone lithographs of Alaska native people and wildlife.  He was selected to produce a work of public art for the 25th Anniversary of Alaska statehood in 1984: his first monumental bronze, the Windfall Fisherman life-size brown bear, now stands near the Alaska Capitol.  It has been cited as "the most photographed site in the Capital City."  He was also chosen to create a life-size breaching whale sculpture to celebrate the 50th anniversary of Alaska statehood.  In 2006 he was awarded an honorary Doctorate of Arts by the University of Alaska Southeast.
His stone lithographs and other works on paper can be found in private collections and museums around the world.  His monumental bronzes stand in public locations in the U.S. (The World Bank, the Carter Presidential Center, Lions Clubs International Headquarters, University of Houston, City of Fairbanks, City of Juneau, and other locations) and in Europe (the World Health Organization, Geneva, and the Royal Institute of the Tropics, Amsterdam).  His small bronze sculptures are also in demand by private collectors.
To create the Spirit of the Rivers monument, Skip and his wife Lynn moved back to live in the house built by his great grandparents, Wallen's childhood home. To learn more about Skip,  check out these sites:
https://en.wikipedia.org/wiki/R._T._Wallen                                                         www.alaskawhalesculpture.com                                                                            www.wallenstudio.com